Sweden has its own holidays like "Kanelbulle Day" (cinnamon bun day) and other pastry holidays but we don't want to lose sight of our own fun American days, like Halloween. Calvin can have the best of both worlds -- American traditions AND Swedish traditions, but it means that we have to work hard(er) at ensuring it is celebrated properly. Halloween is still gaining popularity here in Sweden and it was difficult to find adult costumes, so we just dressed with what we had lying around the house.
Since we don't really entertain much anymore, we kind of went decoration-crazy and bought skeleton garlands, spider webs, ghosts, and skulls to really spook-it-up! I spent an inordinate amount of time scouring Spotify for proper kid-friendly Halloween songs to create a monster mashup for our 2 hour party on Saturday.
Spider webs everywhere
We invited our friends and neighbors to join us and I had envisioned deliciously spooky spider cake balls, ghostly shaped pizzas and a punch drink that would slake any thirst. Things started to go wrong when all of my American Halloween treat recipes required dire substitutes from our Swedish grocery stores.
First off -- cake pops/balls require lollipop sticks. These are relatively easy to find at craft stores in Atlanta but I had no hopes of finding them in my neighborhood stores. Fine, no problem. Let's substitute pretzel sticks instead of lollipop sticks. Great, right? Wrong!
Pretzel sticks snapped under the weight of the giant cake balls
The tiny pretzel sticks were no match for the weight of the dense cake balls. Rather than continue down this path, Jon gently suggested that I just flick the chocolate over the cake balls instead of dipping them into the chocolate and just leave them in "ball"form rather than use the pretzel sticks. The end result was more attractive and still delicious.
New cake balls -- less spooky, more edible
Jon's pizza dough came out great, so instead of creating pizzas for the party, we put out all of the toppings and had each person make their own ghostly pizza. Some kids just ate the toppings, so it worked out for everyone. Swedish grocery stores are lacking cranberry juice, so instead of a blood red punch, we had to settle for a blueberry base with orange and apple juice. Thankfully the SodaStream came in handy in making it all sparkly.
We ended up with 7 kids and 12 adults so we had a full house. Luckily, the couch was wide open for jumping!
Couch jumpers!
Most of the kids were too young for any official "games" so we kind of went freestyle with it and let them just play with all of the toys and balloons. The older kids found the castle tent downstairs and played with Jon for a while. I enjoyed seeing the shock on Jon's face when he realized he was the only adult with 4 children -- none of whom were his own. The adults enjoyed some Hell beer and Pistonhead (complete with glow in the dark skulls) and we all rocked out to some Thriller.
On our actual Halloween night (Wednesday) we ended up with 7 trick or treaters -- all of whom were very scary looking. They were dressed in elaborate makeup and black costumes. I didn't know what they were supposed to be but they achieved the effect of scaring me into giving them candy so they didn't egg my house (not an empty threat as it happened to one of Jon's coworkers). They banged on our door using our creepy door knocker and just stood there with a basket. No "trick or treat" just a blank stare that said, "give me caaaandyyy" or however you say it in Swedish. There were no cutesy butterflies or fluffy monsters -- all of these kids (aged 5-9) looked like they had come straight from a horror movie set.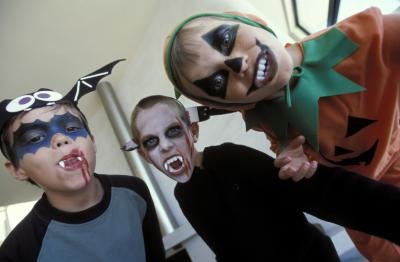 Not Swedish children but you get the idea
Now, that's the way to do it. The few kids who went trick or treating made out like bandits. One kid even tipped - and thereby emptying - the candy bowl into his basket for him and his 3 friends. Well played kid, well played.